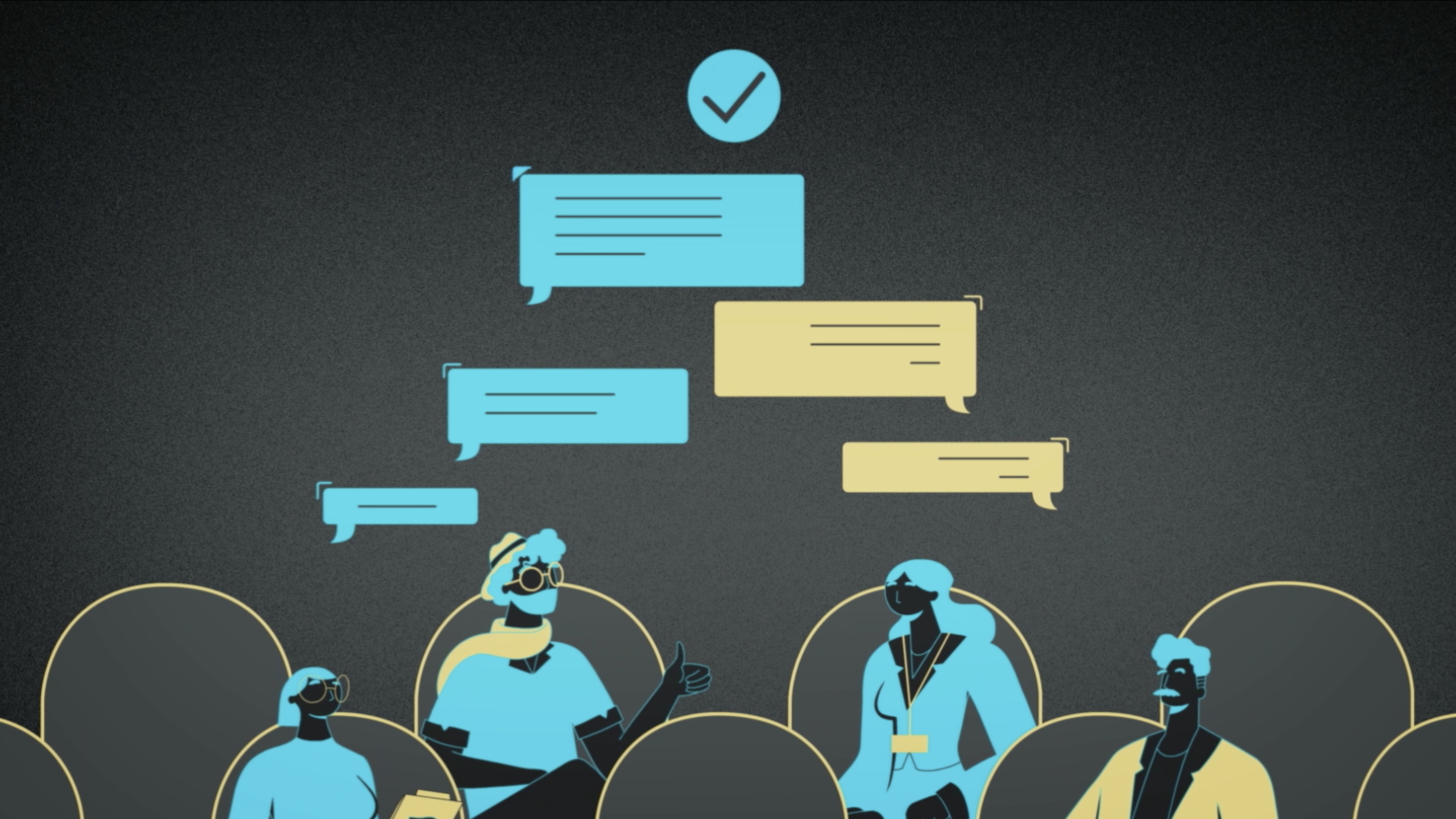 18 Dec

Mnemonica Due.1: Better Collaboration
Farewell Spectators
We spent the first three years of Mnemonica in the company of an army of Spectators. That pretty crowded history is due to the fact that, unlike other platforms, we've never put a limit on the number of a project's guests. This left producers the freedom to invite whoever they wanted to their home, to their projects. Even hundreds of people, literally.
Spectators in Mnemonica corresponded to a wide range of subjects, from directors and DOPs to the junior assistants, from co-producers to journalists, from actors to potential buyers from foreign markets. All invited to Screening Rooms to watch and comment, possibly download via Delivery Boxes, dailies, rough cuts, or deliverables.
Welcome Guests
On entering the just released Mnemonica DUE.1 you will note that "Spectators" have disappeared and have been replaced by "Guests". Why this change?
Four letters less sum up to a lot of pixels that will no longer light up on users' screens, so our carbon footprint decreases. But to be serious, we must confess that this was not our first motivation. Behind this apparent substitution of labels is an actual expansion of powers, responding to the arrival of important new features geared toward better collaboration.
So far, Mnemonica's third role had limited capabilities for action. They could watch and comment on content in the Screening Rooms, or they could exchange materials with the Team via the Delivery Boxes. In their becoming Guests, though, they lose their satellite position become part of the projects in a more engaging way.
Guests can now be invited directly to a Project, no need to be summoned as the audience in a Screening Room or recipients of a Delivery Box. And once inside the Project they can do something new: they can exchange Delivery Boxes with other Guests. This may seem like a trivial novelty, but it is revolutionary if we consider concrete use cases.
A typical use case
Previously, Spectators were end-users invited to watch materials, and they could at most send stuff vertically to Team members. Now the role of Guest can be assumed, for example, by a guy in a post lab to freely exchange files horizontally with other Guest colleagues, thus overriding triangulation through Team members. This saves them time and many annoying uploads and downloads.
Improving an ideal transfer service
Speaking of data transfer, Delivery Boxes are the real protagonists of this release, where they fully reveal their uniqueness on the Media Asset Management scene.
Normally in MAM platforms transferring materials means uploading files, and then sending recipients a link to download them. But what if the recipients must in turn send back the processed files? If they're not part of the admin group, with full access, they can't do that. In the most general case, what you get is the "wetransfer" style: a one-sided, download-only relationship.
On the contrary, Mnemonica features a real two-way communication service: a complete exchange system, very similar to email but with Boxes as transport units. This multilateralism boosts teamwork while maintaining the high levels of security and privacy that distinguish us.
Additionally, the Delivery Boxes get a brand new "shared" option that makes them an even more powerful tool for better collaboration within the Team: all Team members will be able to see a shared Box, edit it — with the possibility of multi-user upload — and send it, regardless of who created it.
The flowering of collaborative multilateralism doesn't stop here. Any user will also be able to clone a Box, that is, create a copy identical in content, editable, and ready to be forwarded to other users. In short, we definitely put an end to the tedious and time-consuming download-and-upload-again bottleneck that one found when she had to forward content to others.
Teamworking with Clients for a better UX
As you can see, "share" remains firmly at the top of our favorite verbs, as the human and relational dimension that adds meaning and value to data. The sharing autonomy of Mnemonica users is ever-increasing, at all levels, with the practicality and efficiency that follow. Although there are rules that we must keep for the sake of security — a Guest in a Project will still be not allowed to send Boxes out of that Project — the generative power of sharing well done is really great. And that's why we dedicated this new release to better collaboration.
We ourselves collaborate with our customers, to continuously improve the product. For this reason, in the new release we have made the UI even clearer and more functional, and the UX even more enjoyable.
The Delivery Boxes, again, are the place where the UI/UX improvements are more evident. The news there is that files in the Box content panel can be browsed in two ways: the Tree view, with the classic folders hierarchy, and the Flat view, with all files in a single list. Boxes involve delicate processes such as uploading thousands of files or huge files, and it may be hard to navigate a nested fileset to find a specific file; the Flat view overcomes this problem.
Moreover, a new Hide complete filter makes it possible to keep in sight only the files still in motion, whether in upload or queued.
In some cases, the user experience enhancements come from changes made behind the scenes. For example, the pagination we've just introduced, i.e. a method of progressively loading content that allows the interface to respond much faster.
Or the preservation of filters activated on the Media Pool, when returning from the player.
Or again, in Dailies Rooms, the indication of the respective Day number on each media, a simple trick that can make a difference when it comes to accessing content.
Finally, the new commands in the player to jump forward and backward by 10″, with relative keyboard shortcuts, and the optional Autoplay.
In other cases, the UX refinement is directly related to new tangible features in the UI. For example, we introduced an amazing bulk email copy-paste with which you can copy a text of any format (even HTML or XLS) containing scattered email addresses, and paste in the email address field of a Box or an invitation to a Room only the actual email addresses, no matter how many — Mnemonica automatically strips out anything else from the text. Another little but fit expedient to facilitate collaboration, this time in the management of complex audiences.
The icing on the cake of the new release is a long-awaited and much-requested feature: the export of media comments from the player page, in simple text and Media Composer formats.
Better teamwork to all with Mnemonica! Because data has value only when shared.