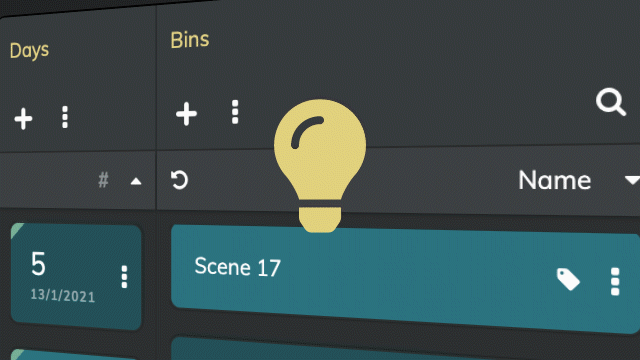 14 Jan

Tip: use Bins and Days to the fullest

In a Dailies Room, Days and Bins are partners in crime. They allow you to organize dailies by yourself with unprecedented power. Let see how to get the most from them.
Bins: your indexing companions
On upload, you associate files with a Day and, if you want, with a Bin. For example, you can use Bins as scenes to put in all the related takes. Or, in case of Series, you can use them to sort the dailies by episodes. In addition, generic or specific tags such as location and characters can be associated with the Bins. This greatly simplifies indexing and searching when the number of media in the Room increases.
After the upload
Once you have created the Days and Bins structure you can use them as filters to shrink down your Media Pool. Selecting a Day will update the Bin list showing only the Bins that have media in common with it. Similarly, by selecting a Bin, the Day list will be updated showing only the Days that have media in common with the starting Bin. If you want to go back to the starting point, just reset the filters by clicking on the reset button ( ↺ ).
Did you know..?
A few suggestions for your everyday work.
Any media can be moved (or copied) between Days and Bins using drag'n'drop or commands in the options menus ( ⵗ ).
You can select more than one Day and Bin at the same time.
Have fun!