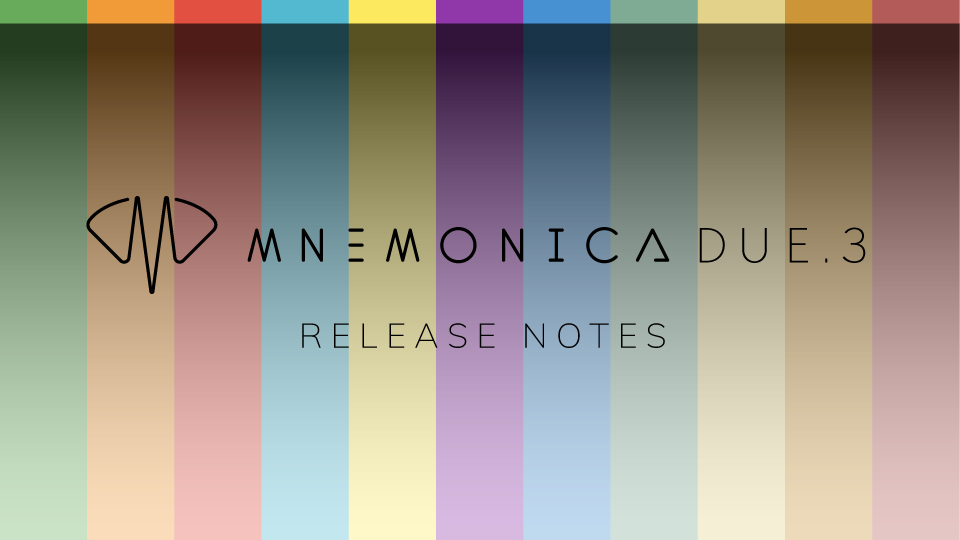 06 Jul

Introducing Mnemonica DUE.3 (Rainbow)

Colors in Mnemonica have always been designing codes carefully crafted to help users distinguish functions and properties of UI elements more easily. With this release, not surprisingly dubbed Rainbow, for the first time we are giving users the ability to choose color codes.

We have introduced two separate color systems that allow marking and arranging Rooms and media respectively. All this and more in the new version presented here.
---
New feature: Media status
Any user, regardless of their role in the Project, can set a status associated with color to rank any asset within a Screening Room. A simple tool that improves the review & approval process and editorial department interactions.
Check this article in our User Guide to know all about Media statuses. A little preview: here are the available colors/statuses, and how they are displayed on media cards.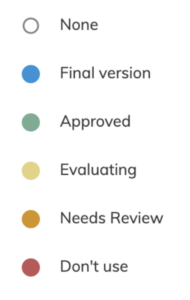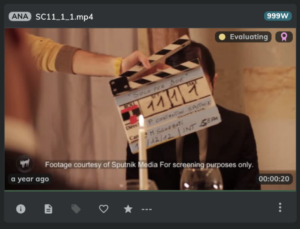 Once sorted by status, media can be singled out by category using a new status filter on the toolbar. In addition, media status has been included among the sorting criteria so media can be sorted accordingly. Media statuses can be assigned either individually, using the options button on the media card, or in groups, using the same command on the toolbar.
New feature: Room Color Tags
Team Members can now assign a color to each Screening Room to classify them according to custom categories. This is an easy way to group Rooms according to one's needs and quickly locate work areas.
Everything is explained in this article in our User Guide. A little preview: here are the available Color Tags, and how they are displayed on a Room's card: a thin stripe on the right.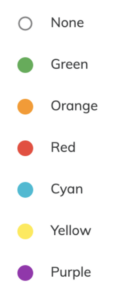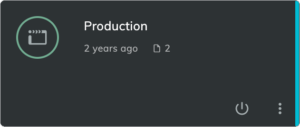 Once sorted by status, Rooms can be singled out by color using a new Color Tag filter on the toolbar. In addition, the Color Tag has been included among the sorting criteria so the Screening Rooms can be sorted accordingly.
New feature: Collaborative Dailies Rooms
Collaborative Rooms were introduced in the previous major release of Mnemonica and have been an immediate success among users. They easily solved a key problem: allowing users who had no access to other Project resources to upload assets to a Room.
We are now extending the same capability to Dailies Rooms. All Guests invited to a Collaborative Dailies Room will thus be able to manage media in it as if they were members of the Team, while remaining excluded from managing content outside of it. 
New feature: Collaborative Rooms' Aliases
The introduction of Collaborative Rooms gave users the ability to create virtual free zones where Guests have the same powers over content as Team Members. But Mnemonica's Screening Rooms were born for a specific reason: to allow easy, read-only access to Guests. This purpose must be preserved.
Hence we made it now be possible now to create Aliases of Collaborative Screening Rooms as well. Since no one can modify the content of an Alias Room directly, in Collaborative Rooms' Aliases Guests will have their normal read-only permissions.

As a consequence, you can invite Guests with management privileges to the Master Room, while using its Alias Rooms to show the same content to all others who need normal read-only access.
As a matter of fact, the introduction of this feature allows a further step forward in the generation of automatic workflows for content collection and distribution, always ensuring proper discretion between Team Members and Guests.
---
Improved: Invitations are immediately effective
In Mnemonica, joining a Project always required two steps: 1) an invitation from a sender, 2) acceptance of the same invitation by the recipient. Only after the second step would the recipient actually enter the Project, and the sender would receive the corresponding notification. 
Good news: we have removed the second step. Acceptance of invitations will no longer be necessary, and invitations will be immediately effective. When the invitees receive the invitation, they have already joined the Project automatically with their assigned roles. The sender of the invitation will be notified upon the recipient's first access to the Project. 
This further streamlines the access procedure, making life easier, especially for new users. 
NOTE: If the invitation is sent to people who do not yet have a Mnemonica account, the recipients must first register on the platform. As soon as their account is registered, they will immediately become part of the Projects they have been invited to.
Improved: Upload to pre-selected Day/Bin
When a user selects a Bin and/or Day in a Screening Room, that selection is now kept and shown in the upload window a user opens thereafter.
Improved: Scrolling
We have improved scrolling for all lists in the interface, and overall responsiveness.
Improved: Room card
The card representing a Screening Room has been updated in its design. Among other things, it now displays the number of media contained in that Room (see image in Room Color Tag above).
Improved: New names
As part of the natural evolution of Mnemonica, it proved necessary to adapt some of the menu nomenclatures. The following table shows the updates.
| | |
| --- | --- |
| Old name | New name |
| Account Settings | Preferences |
| Properties (media) | Details |
| Properties (bin) | Details |
| Properties (day) | Details |
---
Bug Fix: Room viewing stats
Fixed a bug that showed inconsistent Guest lists between statistics by Room and by Clip.
Bug Fix: Search Filter
Fixed a bug that prevented editing data in some dialogs if a text search had been previously set up.
This is all about Mnemonica Rainbow. Don't forget to update your Mobile App as well, and enjoy! Until the next release, of course.