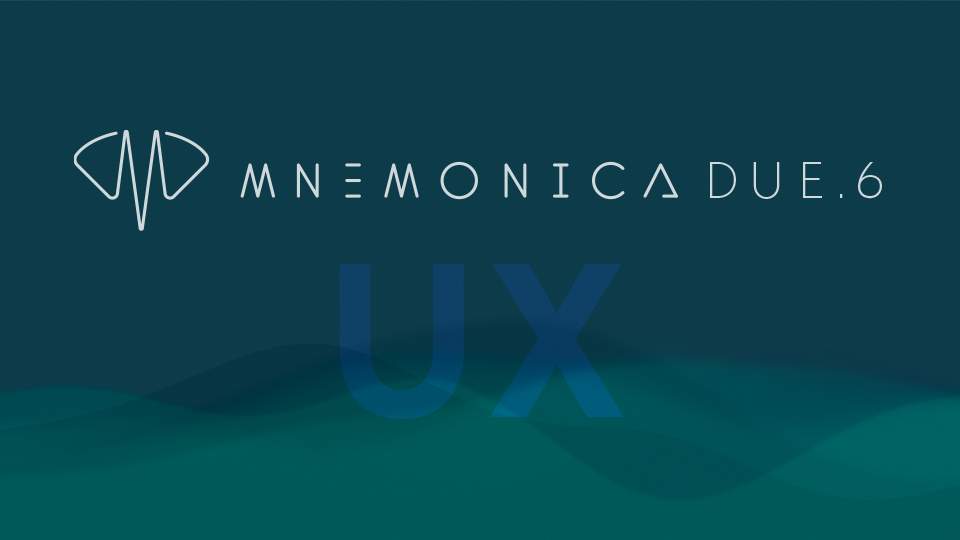 07 Oct

Introducing Mnemonica DUE.6, the UX booster

We are particularly proud of the 2.6 release coming out today because it brings a further huge improvement of user experience with a pack of new features (see below) that ease operation throughout the application.

BTW: On Wednesday, October 11 at 6 pm, Mnemonica 2.6 will be presented live in the Tech Pavilion at MIA 2023.
A new performance era
Experience lightning-fast transfers to and from Mnemonica with the unstoppable force of AWS CloudFront CDN. Wave goodbye to frustratingly long latencies and embrace the full might of Mnemonica. We have also adopted the HTTP3 over QUIC protocol, a UDP technology that enhances transferring performance for users with long latencies.
Thanks to these two integrations, users will be able to experience 5x to 15x faster transfers.
*QUIC at the moment, is only supported working with Chrome, Edge, Firefox and Safari. Support for Mnemonica Gate will be available in the next weeks.
The Hub
Here comes the sidebar of your dreams! A constant reference point for everyone through Projects. By using the Hub alone, you can drag'n'drop file sets or entire Screening Rooms to/from Delivery Boxes or even to/from other Projects via the Shelf (see below).
The Shelf
A centralized temporary buffer to hand over assets to other users, and therefore to other Projects—a crucial, structural innovation in Mnemonica, whose true power will accrue over time. If you have ever needed to use the same assets in different Projects, or to hand over the Project to someone else at the end of production, here is the solution.
Cut / Copy / Paste
Since ever the most obvious and immediate method of copying files from one place to another, it is now also available in Mnemonica Screening Rooms and will soon extend to the entire application. Now you can copy/cut/paste stuff not only within a Project, from one Screening Room to another, but also between different Projects.
Filters Panel
As you know, folders do not exist in Mnemonica. Filters are our essential tools for easily locating in large masses of assets those few that are needed. We have completely redesigned their behavior: now you can operate all filters from a single window. Cleaner UI, more focus on your work, more efficiency.
Drag'n'Drop Everywhere
We have extended the convenience of drag'n'drop virtually everywhere in the application. For example, you'll use it to put and take things from the Hub. But it gets the most flavor in the Access Control: try the sheer pleasure of dragging Guests through Screening Rooms or Groups with just one swipe of the mouse.
Overlay Watermarks
Many of you have asked us to be able to show Guests' email addresses on streaming clips in the easiest way possible. Well, now you can! Both in the web app and in the mobile app.
The setup is extremely easy, as you can see in the video, and there is no need for encoding either: the overlay is in real-time. Of course, our burned-in watermarks remain available as always.
Personal Contacts
From now on, each Team Member will have their own Contact list, visible in the Preferences from the user menu. Whenever one starts writing an email address in a Guest invitation or in a Delivery Box, matching addresses will be suggested from this list, formed by the sum of the email addresses entered by the user plus those already in the Project. A full-fledged address book management panel is coming soon.