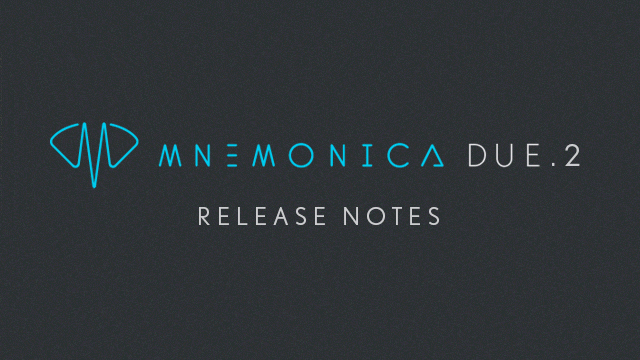 02 Mar

Introducing Mnemonica Due.2

In this new release we keep on pushing on the accelerator of users' collaboration with a series of integrations that make Mnemonica even more flexible.

We have always described Mnemonica as a relational platform designed to adapt to users' needs instead of the opposite. That's why we have added new features and user permissions to cover an even wider range of use cases without introducing breaking changes. Most of them were born in collaboration with our users.
Ingest Rooms

We already introduced them a few weeks ago. By the way, we designed Ingest Rooms specifically to support La Biennale di Venezia. In fact, Venezia 79 applicants will use Mnemonica as the ingest platform. Yes, we now support film festivals, and they can even integrate Mnemonica via API in their application forms.
But we'd like to remind you  that Ingest Rooms can be used also for collecting:
self-tapes for casting;
user-generated footage for collective films;
applications to other film festivals or awards.
Rating

Directly related to the introduction of the Ingest Rooms, but useful on several occasions, we have added a tool to let users express a vote on any media uploaded to a Screening Room.
By clicking on the star icon on a media, users can express a vote from 0.5 to 10 and check other users' votes. The displayed value on the media represents the average rating calculated on the users who have actually expressed a vote. Users can now sort the Media Pool items by rating average.
Collaborative Rooms

Many of you asked us to let users manage the media of a particular Screening Room without having access to all the others. Well, wish fulfilled!
How? We did not introduce a new user role, but rather a new type of Room.
Collaborative Rooms are Bins-only Rooms that allow Guests to act as Team Members: they can upload and download materials, manage bins, tags, and notes without any limitation. And because of this, there's no longer the need to have a Room's status: Collaborative Rooms are always enabled.
For everything else, Collaborative Rooms behave precisely like all the others. In particular, Guests cannot invite any other Guests.
Read this article from our guide to learn how they work.
Media Notes

From now on, in a Screening Room, users can attach a note to any media. We have implemented a rich-text editor to use styles, tables, links, and images to take notes and share them with the whole audience of the Room. Guest access to notes is read-only in non-collaborative rooms.
Operators Take the Floor

We have extended Operators' permissions to give them more freedom of movement and power while maintaining the original distinction from Managers. When a Room's comments privacy is set to public, Operators can now read and write comments like Guests and Managers.
UI/UX improvements
We added a number of clever interactions within the UI and fixed some bugs. Here's a quick list:
Added Add to Delivery Box command in both options and drag&drop menus on the Screening Rooms page to add an entire Room's content to a Delivery Box in one shot.
Added Select All command on the Media Pool toolbar (yes, we can feel your relief).
Added the Audience panel on the Screening Room toolbar.
Added Go to Master Room command on the Alias Room toolbar.
Added Media details panel on each media, with info and link to the related Bin/Day filter.
Added mutually exclusive Filter by ready and Filter by pending buttons on the Media Pool toolbar for easier upload management.
Added Comments available badge on media, blue when unread.
Added Company filter on the home page.
Added Duration field to Project info panel.
Added sent Box cloned notification.
Fixed a bug that prevented Guests from exporting comments.
Fixed a bug that deleted all copies of an item when deleting a single instance.
Fixed a bug that prevented newly registered users from receiving a "New Box" notification.
Minor fixes and improvements.
And this is just March! We have big stuff already cooking for the upcoming spring.
We'll keep you posted.